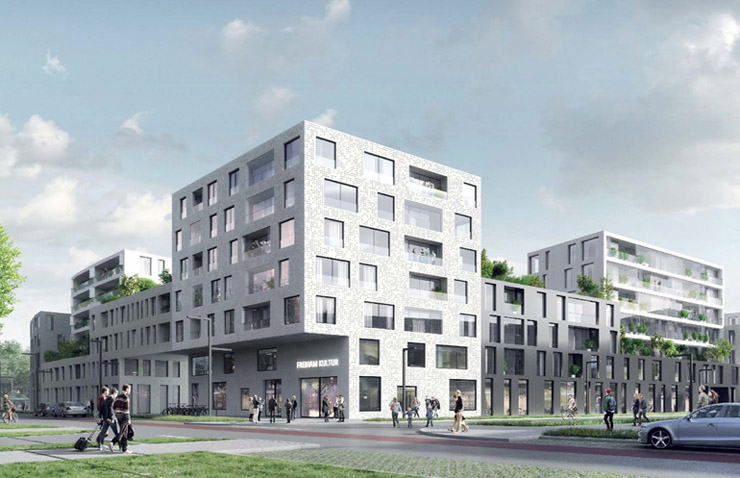 Design and building competition Freiham WA7 & WA8

Freiham is currently Munich's largest urban development project, situated at the western perimeter of the city. In the coming years approximately 4.000 flats and apartments will be built. The design for the plots WA7 and WA8 complies with the intentions of the given urban masterplan which is aimed at diverse and fragmented streets, rather than big sculptural objects. The larger plot WA7 is to become an essential part of the neighborhood centre of Freiham with its programmatic mix of public and social functions on ground floor and social housing on top of it. In the design the given building volume is being modeled and finetuned, in order to accentuate and organise the large block. By these three-dimensional adaptations the block is subdivided into distinct, independent units.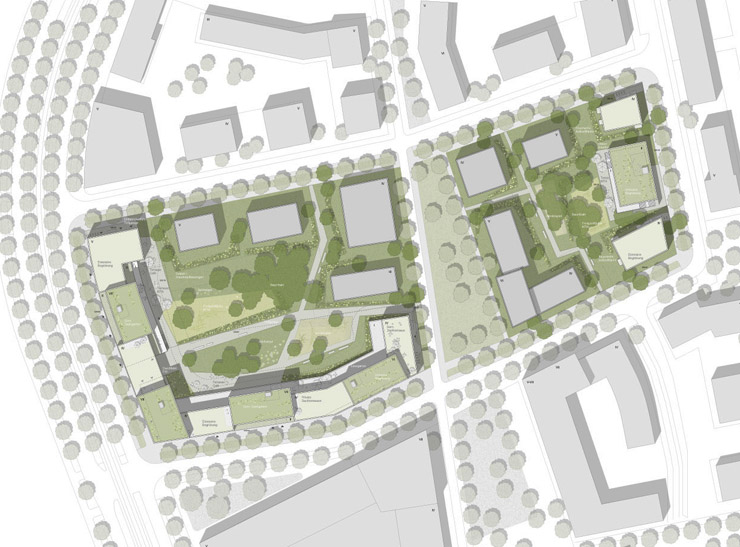 The volume is composed of nine clearly recognizable parts or 'houses'. The roofline is accentuated by increasing the height differences of neighboring houses. Above the plinth of public functions a sequence of shifted set-backs and cantilevers gives a lively profile to the facades. By slightly shifting the volumes different (corner)situations and lateral facades are created which allow for street- and roof-terraces as well. Each of the houses is positioned individually along the block outline and thus obtains its own specific internal circulation.
At the South West corner the refined sculpture of the block emphasizes the entrance to the cultural centre facing the public square.
Three of the nine 'houses' compose the 'Bürgerhaus', a subsidized hostel of small and affordable apartments, the other houses are each different regarding internal circulation and corresponding house-types, thus generating the different appearances and facades of the basically from within. The roof-tops are designed as collective terraces and might be used for 'Urban Gardening'.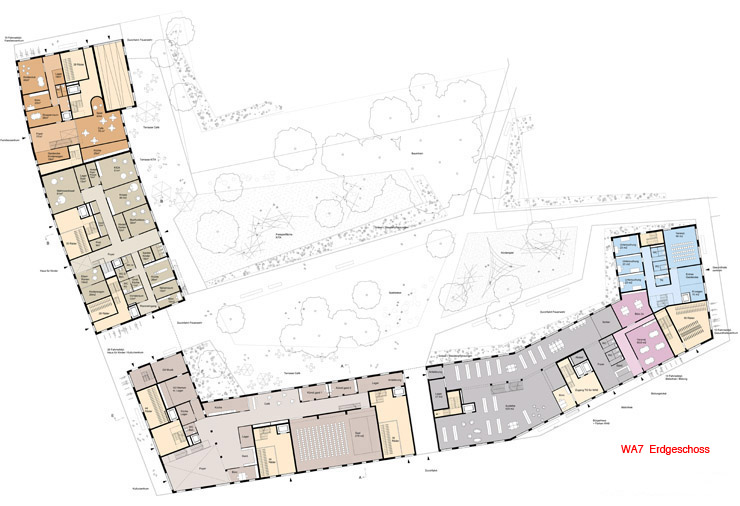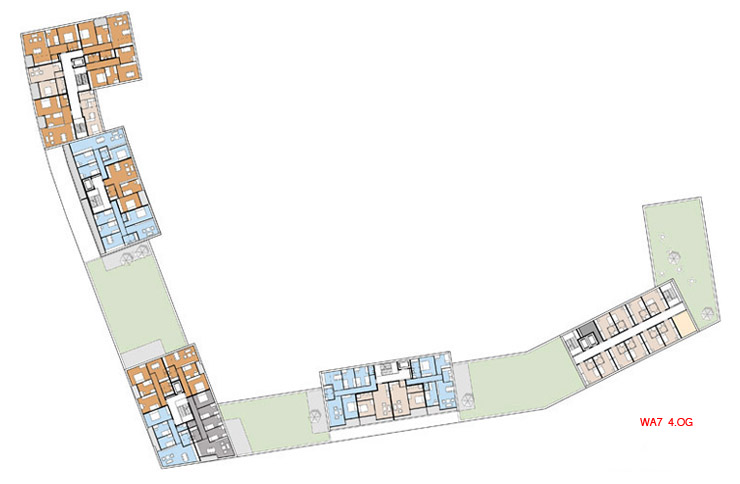 All of the cultural and social institutions, such as cultural center, public library, medical- and family-center are located in the base of WA7, giving a lively character to the street level with alternating public and residential entrances and lobbies. Two passages connect the street with the playgrounds and gardens inside the block.
Most prominently the entrance of the cultural center is put in scene at the corner of the public square, its large and partly double high spaces accommodating a little café and connecting all the other rooms and functions of the center. All of the other institutions are fitted in the western and southern wing of WA7 with generous halls and handicapped accessible circulation, leaving space for waiting parents and buggies.
Facade and structure - Loadbearing exterior walls are built with high quality insulating bricks in order to meet sustainability requirements. In addition the cantilevering building parts are suspended by concrete slabs from above floors. The residential 'houses' and the architectural units of the public functions are recognizable by different finishes and textures of stucco as well as color tints of the plastered facades. Due to the interior organization and apartment types each of the houses also has individual format and pattern of windows, loggias and balconies

program:
ca. 14.800 m2 social housing
ca. 5.200 m2 cultural, social institutions

Team:
architecture: morePlatz & Oever Zaaijer architectuur & stedenbouw
landscape: realgrün Landschaftsarchitekten
visualization: WAX Architectural Visualizations
advisers: Bollinger & Grohmann; Grebner Ingenieure

Client:
GEWOFAG Wohnen GmbH
Kirchseeoner Straße 3
81669 München