On top of the existing truck garage in the north of Berlin, a single-storey residential development in timber frame construction with a flat roof will be added.

The original building from 1978 was expanded by a storage in the early 1980s. The existing garage with an area of 10 x 15 m was built as a solid construction with a steel structure as pitched roof.

The existing roof is dismantled, the height difference bricked up, existing and new walls are provided with a ring anchor. For the spans of the new precast concrete slab, an additional girder with a central column is added.

The former garage is newly plastered, and the extension completely covered with horizontal wooden cladding. The existing structure and addition appear as one coherent volume with a clearly legible subdivision.
The rear property is located near the tracks of the Berlin S-Bahn and was provided with a passage through the front plot in 2014.

There are no trucks in the existing garage today. The ground floor is used exclusively for private purposes - for car repairs or as a hobby room. Commercial use is excluded.

The single-storey structure with a flat roof is accessed via a two-flight of stairs. The height of the finished floor is approximately 4.5 m above ground floor level. A lift is to be installed later in a second construction phase.

The apartment has a usable area of 128 m2 and a terrace to the southeast. The middle corridor gives access to all rooms, bathroom, toilet and kitchen. The spacious living and dining area has an open fireplace and is connected to the terrace.



The entire structure is implemented as wooden pre-fab frames, the walls are manufactured in the factory and then transported to the construction site. The prefabricated parts are assembled with the help of a truck-mounted crane, and the roof beams are then attached on site. The supports match with the load-bearing walls of the existing building. The stiffening takes place via diagonal wind braces.
The foundations for the outside staircase, the new column and the lift are made from in-situ concrete.

The outer walls consist of horizontal wooden cladding with rear ventilation, a diffusion-open membrane, mineral insulation, wooden structure, vapor barrier and plasterboard.
The larch wood cladding is impregnated on all sides and coated with Keim Lignosil RAL 1012 lemon yellow.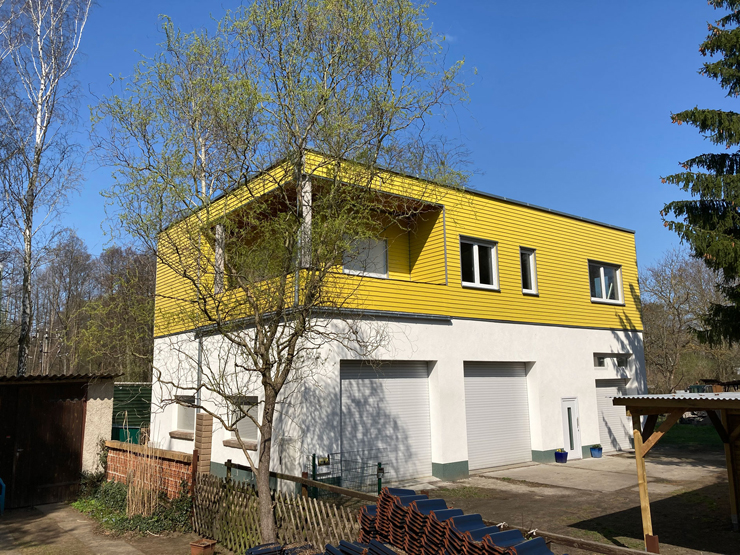 The flat roof construction as a wooden beam ceiling is covered with slope insulation and bitumen sheeting. Six solar panels are installed on the roof to generate electricity.

All rooms, with the exception of the toilet, are naturally lit and ventilated and provided with external sun protection. The double or single-sash tilt and turn windows with triple insulating glazing are equipped with shutter boxes.

All rooms of the extension are equipped with flat radiators below the windows.
The complete interior work is carried out by the client himself.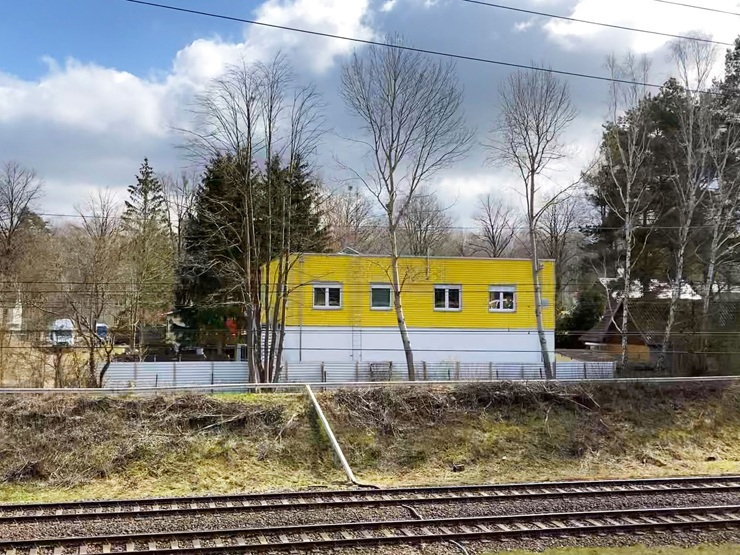 team morePlatz: Johannes Schele, Caro Baumann,
David Gras, Huong Nyugen
project phases: 1-8

structural engineering: Dipl.-Ing. Detlev Krauß, Schildow
engineering wooden structure: Ing.-Büro Wolfgang Hornburg, Kränzlin
surveyor: Ingenieurbüro Noffke Berteit

wood structure: Opitz Holzbau Gmbh & Co.KG, Neuruppin
roof & facade: St.Masch, Berlin
contrete and brick works, demolition: Werbiger Bauunternehmung
steel structure stairs: Metallbau Hohendorf, Wolgast

client: private
area: 345 m2
project year: 2021
photos © morePlatz